Call for Speakers: Deep Learning World Las Vegas 2023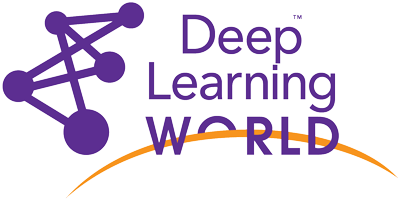 Deep Learning World Las Vegas
June 18-22, 2023
Venue: Red Rock Casino Resort & Spa
EXTENDED DEADLINE for submission is December 16, 2022.
Accepted speakers will be notified by: January 31, 2023.

DLW is the premier conference covering the commercial deployment of deep learning. The event delivers case studies, keynote addresses from the preeminent top names, comprehensive coverage of deep learning application areas across industries, and actionable guidance for hands-on practitioners. Conference sessions will take place Tuesday – Wednesday, June 20-21.
Deploying today's state-of-the-art. DLW's mission is to foster breakthroughs in the value-driven operationalization of established deep learning methods. The event achieves this by focusing more on industry applications than on R&D or academic advancement. Commercial projects do have much in common with many research projects — but the difference is, commercial projects are executed in order to solve specific, current industrial problems, and the models have been veritably used to that end by way of their operational deployment.
World class instruction. Training workshop options and select conference sessions at DLW cover the principles behind deep learning and its commercial deployment.
Part of Machine Learning Week, DLW 2023 — June 18-22 — will be held simultaneously alongside the Predictive Analytics World events PAW Business, PAW Financial, PAW Industry 4.0, PAW Healthcare and PAW Climate. Speakers will receive complimentary registration to access all DLW and PAW sessions, and regular attendees will be provided access to cross-registration options.
About the founding program chair, Luba Gloukhova. As a research analytics consultant at Stanford Graduate School of Business, Luba facilitates and accelerates advanced research projects at a major R&D hub of the Silicon Valley. She supports Stanford GSB faculty by conceiving and generating innovative solutions that drive their cutting edge research. Luba received her master's in analytics from the University of San Francisco and her bachelors in both applied math and economics from Berkeley. Before her current position in academic research, she gained industry experience in analytics consulting, high frequency trading analysis, catastrophe risk modeling, and quantitative marketing. Luba also teaches yoga and enjoys an active lifestyle.
Maximize Your Chances of Being Accepted by Following these Recommendations:
All speakers: Please read this call for speakers in its entirety before proceeding to the speaker proposal form (below).
Software vendors: If you are a software vendor, read this restriction on speaking.
Join Deep Learning World to share how deep learning delivers a business impact for your organization. Presenting at DLW is a fulfilling way to engage with the leading cross-vendor community of the field, and provides complimentary registration/access to the DLW event.
The premier cross-vendor event focused on commercial deployment, Deep Learning World is the only conference of its kind. DLW sessions and content reach:
Across business applications – For what operational function is deep learning deployed?
Across industries – Where is deep learning deployed?
Across software tools and vendors – How is deep learning deployed?
Present Your Case Studies
Deep Learning World provides speakers the opportunity to present deep learning case studies, deployment successes and lessons learned. At this event, potential consumers of deep learning witness proof demonstrating that the principles pay off in real-world application — deep learning is actively applied to optimize many business functions across industry verticals. And deep learning practitioners have the opportunity to gain from the lessons you've learned, whether by serendipity, or — more likely — the hard way.
Evaluation – how well did it work? Case study proposals will be given highest consideration if specific measurements of deployment performance are included.
Name and Include the Company That Benefited
As a business event, we emphasize named case studies. Naming the company that benefited makes your session much more effective. It is a strong selling point to attract attendees to your session, rendering the case study more concrete and adding credibility. Attendees will feel, "I want to know what that company is up to!"
If you are an analytics vendor or consultant, check with your clients for permission to be named during your presentation. Even better, ask if your client would be interested presenting themselves, or copresenting. Most case study sessions at Deep Learning World include the client as a presenter.
Present Your Lessons Learned
Your case study presentation tells a story — be sure to include the story's moral. Every analytics initiative provides at least two or three lessons learned. Seek out the strongest and most concise way to state these lessons. Where possibly, make them generally-applicable in that they apply across industries. What turned out to be the greatest challenges regarding the project's management processes, analytical processes, technical integration and model deployment? What turned out to be the most effective solutions to meet these challenges?
Present a New Use Case: Your Innovative Deployment of Deep Learning
Deep Learning World welcomes submissions across the wide spectrum of application areas, since all such commercial deployments share a great deal of overhead, concepts, challenges and requirements. They leverage the same core modeling principles, share many of the same data preparation requirements, integration requirements and management processes, and employ the same methods to evaluate model performance and forecast return-on-investment.
Present Your Machine Learning Methodology
An alternative to presenting a case study is to illustrate the advantages of a particular technical approach. Such presentations must demonstrate the deployed value of the approach, ideally across one or more case studies. The methodology described must be proven as commercially applicable today, as distinct from R&D efforts that show promise or potential for the longer-term.
Make Your Presentation Accessible
While we urge you to make your case study presentations detailed and concrete, certain presentations at Deep Learning World are intended for a general business audience with no required analytical background or expertise. Make sure the business value of your model deployment and the lessons learned are clear to this audience.
Deep Learning World's "Expert/practitioner" sessions include more technical presentations on special topics such as new, cutting-edge analytical innovations. If you are submitting a proposal for an "Expert/practitioner" session, please indicate this on the speaking proposal form where requested. Even so, across DLW's technical sessions, the focus is commercial deployment rather than R&D. We ask you plan to make at least the first 10 or 15 minutes friendly to the non-practitioners in the audience.
Tell a Good Story — Attract an Audience
Submit a topic that is clear, focused and appealing — your session title and description is the content that will attract an audience to attend your session.
Vendor-Neutral Content
Your session must present substantive content such that the audience can implement and benefit from what is learned without necessarily buying any particular product or professional service. Your session title and description may not name any analytics vendor or software tool, other than non-promotional free software tools (although you may name the vendor and tool during your presentation at DLW).
If the candidate speaker's affiliation is an analytics vendor, note that a submission from the vendor's client stands a better chance against the heavy competition for DLW speaking slots.
Restriction for Software Vendors
As a vendor-neutral event, DLW's core program is booked exclusively with enterprise practitioners, thought leaders and adopters, with no machine learning software vendors eligible to present or co-present. If you represent an analytics software vendor, a vendor of a software solution designed to support the development or deployment of analytics (regardless of whether the solution itself generates the analytical model or analytical component to be deployed), or a company with webpages or materials that gives the clear impression you sell an analytics software solution, then you are not eligible to submit the speaker proposal form below. As an alternative, you are encouraged to consider becoming a sponsor, and/or to suggest your clients submit a proposal to speak (point them to this web page).
Speaker Benefits — What You Get:
Widen your reputation as an expert in deep learning
Strengthen your company's reputation as a leader in deep learning
Gain exposure to consumers of deep learning
Receive free registration to attend the Deep Learning World and co-located Predictive Analytics World five-day conferences (pre-conference workshops are not included)
Post your bio and a link to your site on the DLW website.
Speaker Responsibilities
Given the speaker benefits above, speaking at DLW is considered a valuable opportunity, for which there is great competition. This opportunity entails the significant speaker obligations listed below.
By submitting the speaker proposal form, you agree to the following speaker requirements and restrictions:
Vendor-neutral content. Your presentation may contain no "sales pitches" or sales-oriented material. Although positive exposure is generally a natural side-effect of presenting at DLW, your session must focus entirely (with the exception of a brief, "non-salesy" mention of the software solution employed, if relevant) on substantive content that the audience can implement and benefit from without necessarily buying any particular product or professional service.
IMPORTANT: Completed work. The work about which you are proposing to speak must already be completed, and any pertinent results attained, prior to submitting the speaker submission form.
IMPORTANT: Authorization to present. Prior to submitting the speaker submission form, you must attain permission from your employer to attend the event and to present the contents about which you are proposing to speak. In completing your submission, you certify that you have done so. Be sure to attain this authorization before submitting the speaker proposal form.
Named case study. If your submission indicates you have authority to share the name of the organization or department that benefited from the deployment of deep learning, you must attain, prior to submitting the speaker submission form, such authorization, both for it to be named within your presentation materials, as well as within DLW's event publicity materials and listings. If for any reason the organization subsequently revokes authorization to be named (i.e., "changes its mind"), the session will be cancelled from the DLW program.
Speaker cancellation. You certify that you have the means and opportunity to attend and present at the DLW event at which you are proposing to speak, and that you have attained any pertinent authorization, such as that of your employer, prior to submitting the speaker submission form. If your submission to speak at DLW is accepted, cancellation subsequent to DLW speaker registration for any non-medical reason is against DLW policy and is considered an infraction against meeting your professional obligations. If your submission is accepted, DLW will rely on your participation and will turn away qualified speakers in favor of including your session. DLW begins publicizing your session immediately upon confirmation in order to attract attendees to the event. If medical conditions preclude your attendance at DLW, you agree to make best efforts to notify DLW as early as possible; in such a case, while assistance finding a replacement speaker is requested and appreciated, DLW must screen any prospective replacement speaker, and retains the right to find a replacement speaker on its own.
Agents and PR staff. If the person completing the speaker submission form is not the speaker (e.g., an agent, assistant, or PR staff), you must enter both your email address as well as the speaker's, as indicated on the submission form. You certify that you are authorized as an agent to submit the speaker proposal form on her or his behalf, and that the speaker has been consulted regarding, and is willing to agree to, the provisions listed here; upon acceptance, the speaker her- or himself will be required to explicitly agree to these provisions via the DLW Speaker Agreement.
Co-presenters. If not included within your speaker submission, co-presenters may only participate at DLW after attaining prior permission from DLW, and after they have undertaken DLW speaker registration.
Client co-presenters. If you are an analytics services vendor or consultant co-presenting with a client, per DLW policy, the cancellation of your co-presenter will result in the cancellation of your overall session.
Session length. You agree to participate in a speaking slot ranging from 20 to 45 minutes, at the discretion of DLW, as determined by its conference program constraints and requirements.
If you would like to receive DLW call-for-speakers announcements and notifications as they arise for future DLW events, please provide your email address here: